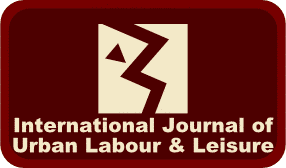 The International Journal of Urban Labour and Leisure, focuses on on-going and emerging debates across a wide range of social science disciplines. It is also a forum for contributors to consider the issues of the contemporary employment experience. The focus is on practitioner, academic and research based material stressing the dissemination aspects of publication.

Many local urban economies are undergoing radical transformations changing the face and content of urban living. Urban areas are emerging from their industrial pasts to face post-industrial challenges. The aim of this interdisciplinary journal is to explore these challenges by investigating the relationship between paid work and leisure. Increasingly cities and towns are consumed as spaces of leisure and pleasure rather than identified with industrial production. In turn, patterns of paid work and occupations are now often entwined with these leisure activities. It is these changes this journal investigates through a) regular articles, b) special calls for papers, and c) review essays.

The International Journal of Urban Labour and Leisure provides this interdisciplinary outlet for all research relating to the contemporary work and leisure practices of individuals today. Work and leisure are an important aspect of contemporary society and need to be seen together. The International Journal of Urban Labour and Leisure showcases how employment at the turn of the century is even more integrated into people leisure lives as traditional industries are disappearing.
Just a few of the topics that will be covered are:

Music and Leisure;
Retailing and the Out of Town Challenge;
Structure and Management of Contemporary Work and Leisure Orientated Organisations.
Urban Life;
The Cultural Industries and Creative Work;
Labour, Leisure and Labour Process;
Popular Culture;
Cyber Work and Leisure;
New and Traditional Work Practices;
Quality of Work Life;
Hospitality Management;
Performance Management and Performance Appraisal;
Organisational Commitment;
Methodology;
Leisure and Urban Employment Trends;
Control and Regulation of Urban Leisure;
Local and International Perspectives : Evening Economies;
Leisure and Local Economic Development;
Urban Sport and Recreation;
Historical Perspectives.
The benefits of this form of communication are immense. The International Journal of Urban Labour and Leisure aims to collect together people and information via the Internet. The potential contributory revolutionaries might be researchers, university teachers, and librarians - in fact anyone who is in the business of generating and disseminating scholarly information.
The journal is freely available to all interested parties and at present is to be published twice yearly, though this latter situation will be reconsidered in the future, should demand increase.

The journal's readers will be able to:

Find out the latest research and applications of urban labour and leisure research with a (free) subscription to their own electronic journal (e-journal);
Browse the International Journal of Urban Labour and Leisure library archive;
Network with other members using the Member Directory;
Start and join in with member electronic conferences;
Place, free-of-charge, forthcoming conferences and short courses.
The forum section will provide member to member networking for those who need to share and compare their work, or to discuss other issues concerning electronic publishing. There is also free of charge unlimited announcements of conferences, requests for help or joint research. Access will be provided to a growing list of links to other Internet sites that our readers may find of interest. And many more benefits besides.

One of the key features of the International Journal of Urban Labour and Leisure is its mix of academic and practitioner articles and those considering the relationship between the two. It also encourages those new to publication be they recent lecturers or practitioners new to publication, or postgraduate students undertaking detailed research. In this way the International Journal of Urban Labour and Leisure seeks to be inclusive of all interested parties in this area. It thus address an audience of researchers within academic and other research organisations, and practitioners in the field.

Electronic Books

We welcome within this section material, which does not meet the criterions for articles: e.g. books. You may apply for your book project to be published here. We also have the ability to charge payment for access, should you wish it.